"I think somehow we learn who we really are and then we live with that decision."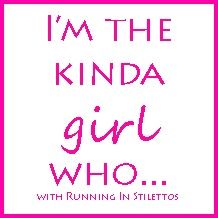 What a great Tuesday link up and a fun way for people to get to know me better!
I'm the Kinda Girl Who....
doesn't have a lot of extra spending money always, so when I shop I'm extremely picky
prefers beer to wine or fruity drinks
would rather sit around a campfire than go to a romantic movie
writes poetry but can only write when I feel inspired about something
despite growing up Catholic would like to explore other religions because I feel I am missing something in the Catholic mass and community
loves a good book and craves reading
loves being around friends and people, but I hate large crowds
sings at the top of my lungs in my car with my kids...and alone
has dance parties with my kids when we are alone, only so I can practice in hopes I won't look like a fool the next time I dance (p.s. it never works)
second guesses my choices all the time whether it's a simple decision like what to wear or what to order or it's a major decision like applying for a new job
thinks the media is ridiculous in the things they report on. Some things in life, no matter how famous we are, should be private or really, who cares? Recent example- Pregnant Kate in her bikini...is that really news?
doesn't have it all together at all. I fly by the seat of my pants most of the time, somehow it's mostly successful.
is finally learning how to be comfortable in my skin.
feels I should have been a veterinarian and secretly wants to go back to school but I doubt myself
feels that all life, no matter it's purpose, should be respected and give quality of life
What kind of girl are you?
Leave a fun random fact about yourself!